Register for the promotion to earn
2x miles on eligible Japan Airlines purchases
between 10/5 - 12/20/2022*
---
How to earn 2x miles
Register for this promotion
Make purchases at Japan Airlines between 10/5 - 12/20/2022
---
If you spend $1,500 on Japan Airlines using the JAL USA CARD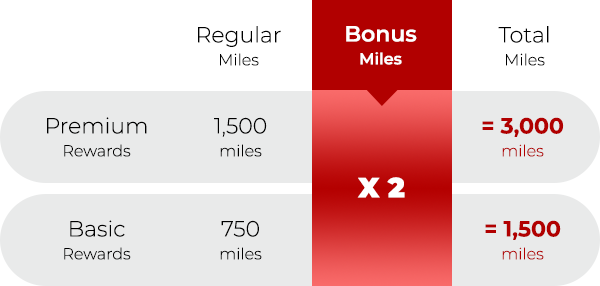 ---
Register between
10/5 - 12/11/2022 (the U.S. Pacific Time)
Benefits of JAL USA CARD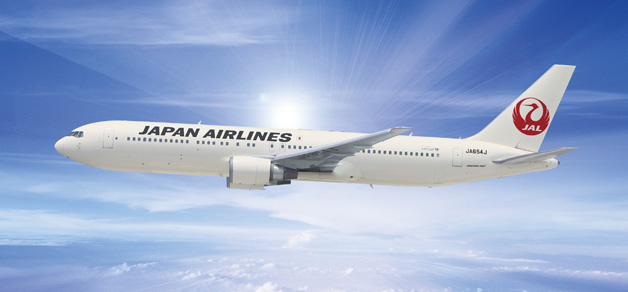 5,000 bonus miles on your first JAL International Flight**
After credit card has been approved, bonus miles will be posted to the primary cardholder's JMB account when the first JAL international flight is completed by a primary cardholder. (Only once)*1
It is applicable to JAL flight with fares eligible for JMB mileage accumulation.
Bonus miles will be posted by middle of the month following the completion of your flight.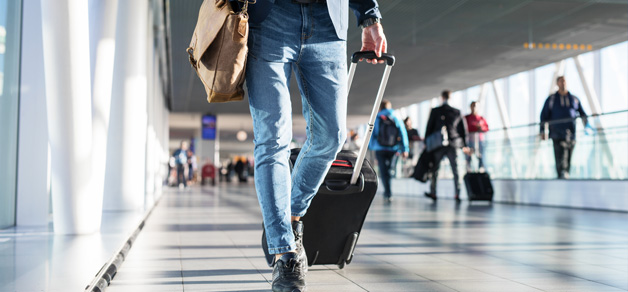 10% sector bonus miles
for every flight


(Primary cardholder's regular reward now!)**

Every time flight bonus
An additional 10% sector bonus miles will be given every time the primary cardholder fly with JAL group.
It is applicable only with fares eligible for JMB mileage accumulation.
Sector bonus miles will be posted to your JMB account at the same time that flight miles are posted.
Special Discount Offers and Services
Choose to earn JAL Shopping point miles or receive a 5% discount at JAL Shopping Americas.
In addition to the shopping miles you earn using the JAL USA CARD, you can choose to earn 1 mile per $1 on your purchases at JAL Shopping Americas or receive a 5% discount at the time of your purchase.*2
10% Off JAL Group In-flight Shopping
10% discount on in-flight purchases on JAL/JAL Group International and Domestic flights by making payment with JAL USA CARD.*3
10% savings on JAL International Wi-Fi Service
10% discount on JAL international in-flight internet service by making payment with JAL USA CARD.*4
5% Savings on Duty Free Shopping at Narita Airport
5% discount on duty free shopping at "JAL-DFS" and "JAPAN DUTY FREE" shops in Narita International Airport Terminal 2.*5
5% Savings at "BLUE SKY" Airport Shops in Japan
5% discount on purchases at "BLUE SKY" shops (for purchases of JPY1,000 or more).*5
Please visit Japan Airlines Website for more details.
---
* The promotion only applies to those who have registered within the given time period. If your email address is shared with other JMB members, they may also receive an invitation email; however, any enrollments done besides the eligible customer will be ineligible.
Eligible Japan Airlines purchases are items billed by Japan Airlines as merchant. Bonus miles will be accumulated to the registered JMB account within 3 months after the promotion end date. Purchase transactions posted to your account outside of the promotion period do not qualify as eligible purchases.
** See your Rewards Terms and Conditions for details, including earning, redemption, expiration or forfeiture. JMB miles will expire. JMB miles earned are valid until the end of the 36th calendar month from the month in which the qualifying credit card transaction is made.
*1 If you re-apply or have more than one JAL USA CARD and have received the First Flight bonus previously, you will not receive multiple bonuses.
*2 This mileage will be credited in addition to the regular shopping mileage with JAL USA CARD.
*3 For maximum purchase of JPY200,000 per international or domestic flight. Not applicable on JAL code share flights operated by other airlines. Not applicable on Japan TransOcean Air (JTA) flight.
*4 Applicable on certain JAL international flights only.
*5 Discount may not be applicable for certain products and may not be combined with any other offer. Offer is valid at participating stores only.
Cards are issued by First National Bank of Omaha (FNBO
®
), pursuant to a license from Mastercard International Incorporated. Mastercard is a registered trademark, and the circles design is a trademark of Mastercard International Incorporated.